You've Entered LAN LAW Country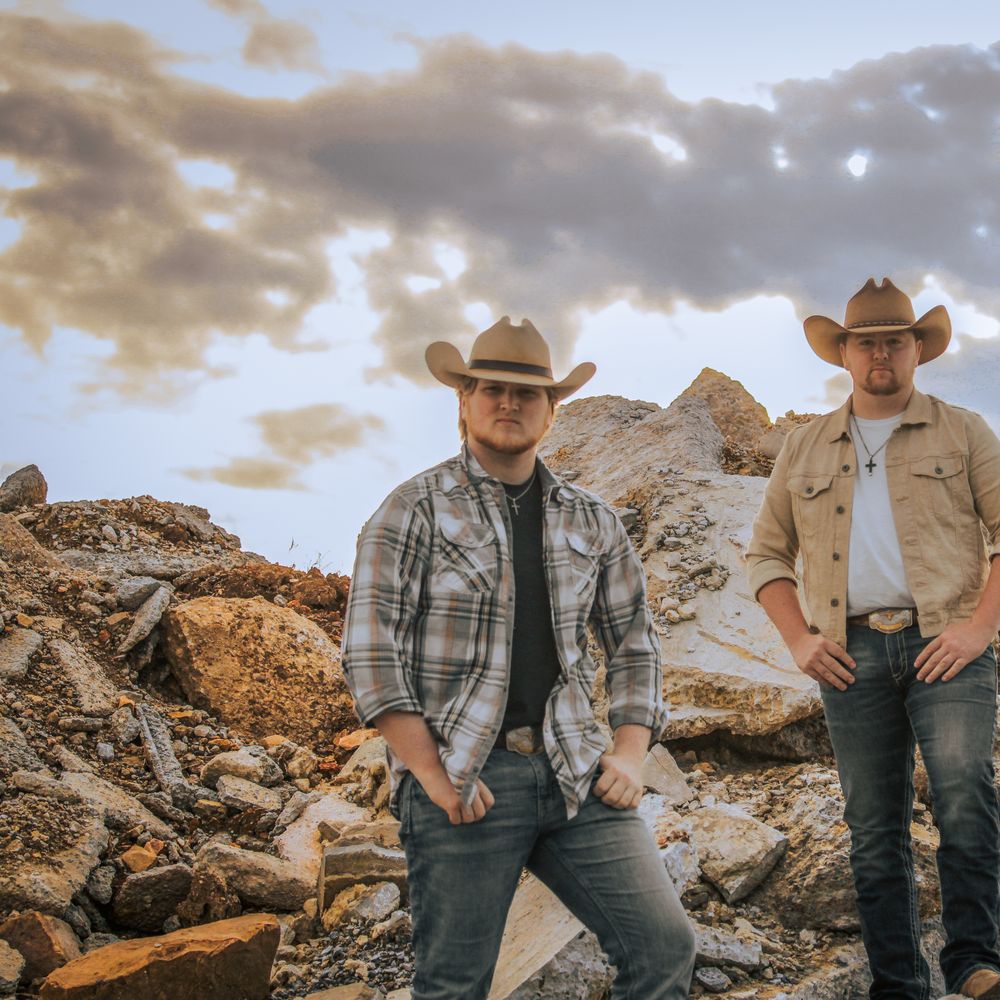 There's a rumbling out in the foothills of the Ozarks—and it's brothers Lance Curtis and Lawson Wayne taking the country scene by storm as LAN LAW. Born and raised in Arkansas, older brother Lance began playing the country classics of Alan Jackson, George Strait, and Johnny Cash alongside his Grandpa Gage and Uncle Shannon from a young age. He picked up a knack for coining country phrases and molding catchy riffs into ear-worm anthems of rural and blue-collar life. While shuffling around Nashville, younger brother Lawson started hammering out rhythms on car seats and cajons, eventually graduating to punctuate attitude into his brother's songs with percussion and backup vocals. 
Together, the brothers have released a series of singles that caught the eye of the likes of multi-Grammy and Emmy Award-Winning producer Jamie Tate (Taylor Swift, Thomas Rhett, Justin Moore, Garth Brooks, Brooks and Dunn, Blake Shelton) and landed them a recording contract with Dolly Parton's producer, Kent Wells. As they continue to craft more sing-along country classics, keep an eye and ear out for LAN LAW rocking stages across the South.
About the "Hillbilly Legal" video
The latest single by LAN LAW, "Hillbilly Legal," is a country anthem for the ages. Over his brother's punching percussion and his own no-nonsense guitar, Lance howls out the staples of a life lived out on the fringe, full of pride and good ol' country guts. From bullets on bibles to high-flying flags, the brothers paint a picture of what means most to them. Lawson even takes his own verse and colors the scene with an outlaw origin story that establishes him as a singer and storyteller in his own right. Tell someone to hold your beer; you'll be fist-pumping and singing along by the end of this one.
Sticking true to form, the music video for "Hillbilly Legal" was written, directed, and shot by the brothers and their parents. This homespun window into the life of LAN LAW will serve as an origin story for years to come as we see this band climb from coon dogs to Country Music Awards. Scene by scene, the brothers boast their loyalty to God, their life on the fringes of the law, and their redneck pride. Take a moment before you hit play for one last glimpse at what life felt like before you found LAN LAW.
EXAMPLES OF COVER SONGS PLAYED DURING SHOWS :
Some of the cover songs that Lance performs are Folsom Prison Blues,  The Fireman, Raised on Country, Dirt On My Boots, Boot Scootin' Boogie, God's Country, Hurricane, Missing, Silver Wings, Why Don't We Just Dance, Good Directions, Troubadour, I'm Gonna Miss Her, Don't Close Your Eyes, Gettin You Home, Drift Away,  When She Wakes Up and Finds Me Gone, Beer Never Broke My Heart, Ones That Didn't Make It Back Home, Mama Tried, Amarillo By Morning, Buy Me A Boat, Cowboy, and Angles, Cowboy Rides Away, Good Girl, Die A Happy Man, Head Over Boots, The Dance, Friends In Low Places, Your Man,  Texas Tornado, She's Got The Rhythm, Every Little Honky Tonk Bar,  I Will, Soldier, and many others!  
Artists we have opened for:
Gene Watson, Craig Campbell, Kentucky Headhunters, Marty Haggard, and Jake Hoot
Pre-Show performances for Jason Aldean, Tanya Tucker, Collin Raye,  and Debbie Campbell
Press photos